We know pinatas are great for kids parties and all kinds of celebrations, but where are they really coming from and what is their real meaning? This post of today will take you right through all relevant and curious information. In the end, you will be a pinata specialist and who knows you might make your first crazy pinata. Here we start.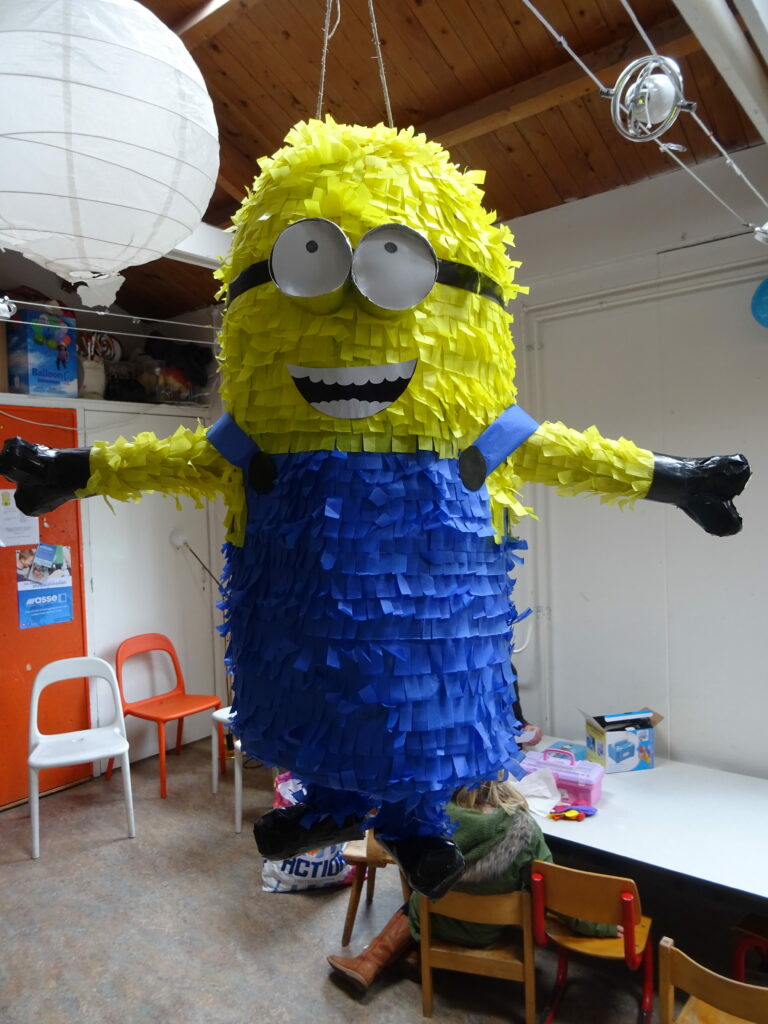 Pinatas are culture, fun, and always a synonym for happiness with colors, candies, and toys inside. In addition to all of that, they can be used in many different types of parties and are definitely not only for children. Plus, all the fun you get when having a pinata is not comparable to anything else.
The post of today covers:
What is a pinata?
History
When to use it
How to fill it
Ways of breaking it
The weirdest pinata I've made.
What is a pinata?
Basically, pinatas are mache paper art made in different shapes. They are used to celebrate something, anything. You fill it and hang it to let people take turns to break it later on.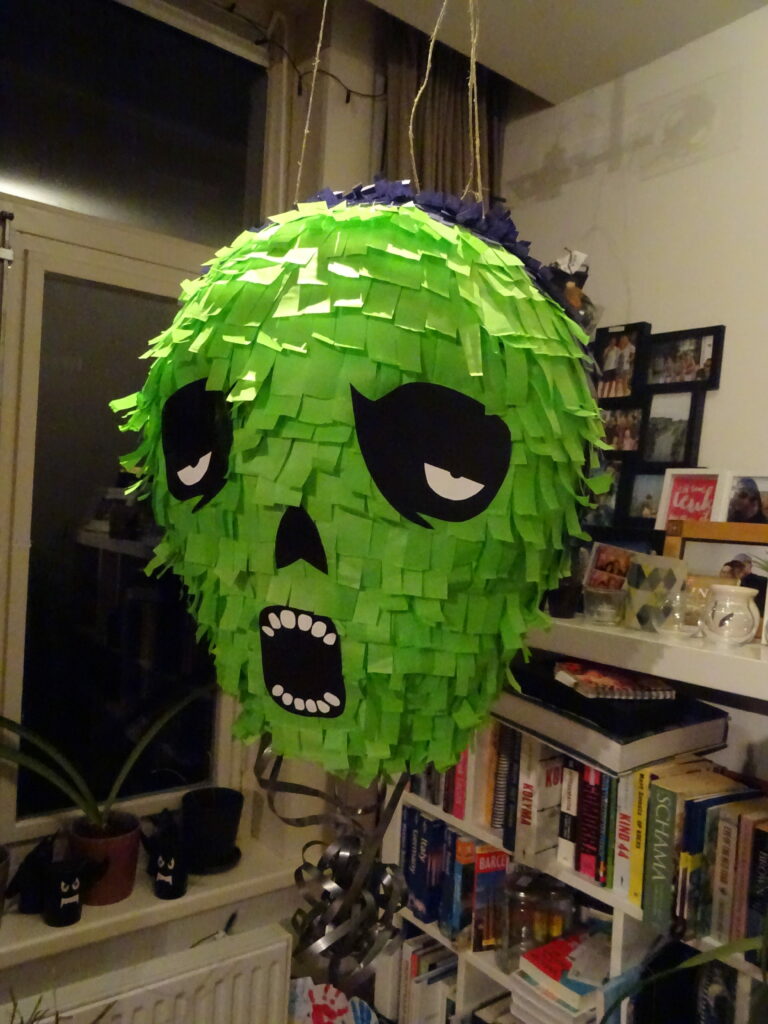 The pinatas in Mexico are made from mud and decorated with colored paper. However, the mache paper technique makes it easier to adapt it to any shape.
History of pinatas
When we think about pinatas we associate them directly with Mexico, their culture, and colors.  And Mexico definitely brought this concept to the next level. However, pinatas originally came from China. Chinese used to make them to celebrate the Chinese New Year. They made big pinatas in shape of cows and filled them with seeds. At the end of New Year's day, they burnt them and kept the ashes for themselves.
Later, Marco Polo took some pinatas with him on his way back from China to Europe and showed them around in Italy and Spain. After that, pinatas we brought all the way to America in the colonizer's ships.
Pinatas arrived in Mexico and were used to teach faith by the Spanish. Since then, Mexicans have used them in their religious celebrations. A curious fact about them is that the original pinatas have 7 peaks or cones. Each peak represents a capital sin. Therefore, you need to break the pinata blind folded because you need to show your blind faith.
When to use a pinata
Usually, we use pinatas at kids' birthday parties. But I believe they are ideal for every occasion! Because you bring so much fun and togetherness that it is all worth it. Some surprising occasions where you can use a pinata are: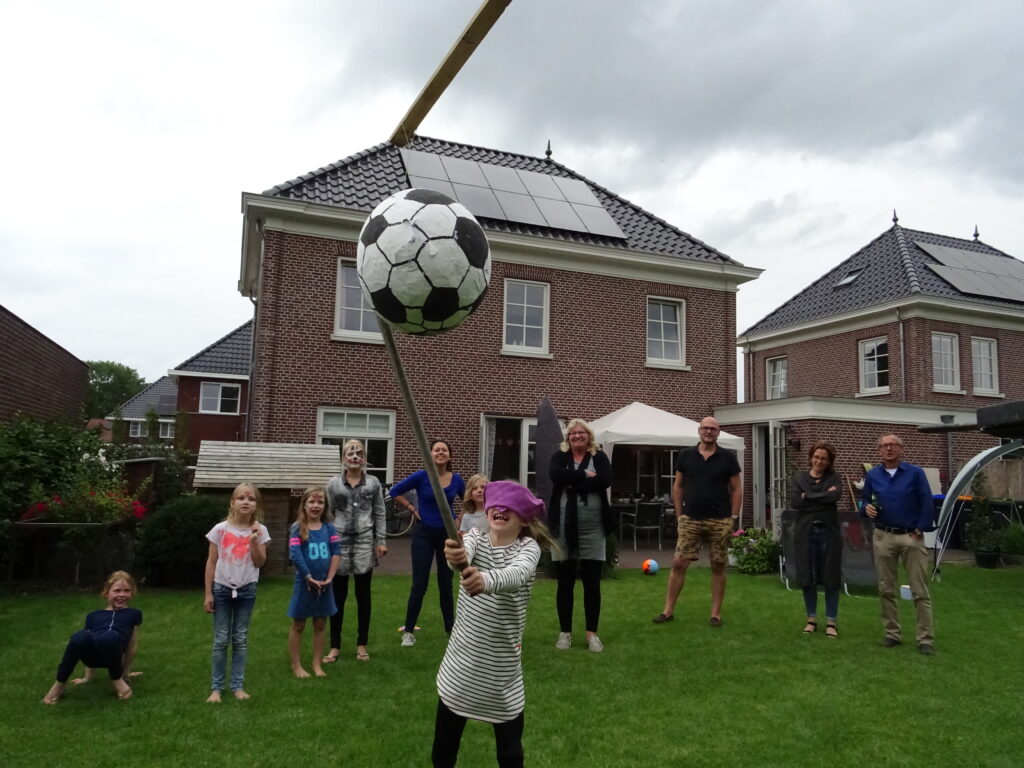 Bachelor party
Bachelorette party
Adult birthday party
Office party
Engagement party
Kingsday (in the Netherlands)
How to fill it
The most important thing when filling a pinata is imagination. Besides that, everything is allowed inside it! For instance, you can use just toys, make it healthy by adding (small) fruits, or make it appropriate for an adult version.
I personally love to use confetti for filling, but some people might not appreciate that, so better check on your public before using that colorful (annoying) confetti.
In addition, other interesting fillings for kids are:
Raisins
Little tangerines
Whistles
Peanuts
Stickers
Headbands
Kids Jewelry
Crackers
Ideas to fill an adult pinata:
Postcards
Chewing gums
Small plastic liquor bottle
Eatable cigarettes
Penalty dices
Jewelry
Ways of breaking a pinata
We arrive at the most conflictive, but fun part of a pinata: How to break it! Some parents find pinatas violent and dangerous. But, in my view that depends on your approach at the moment of breaking it.
There are 3 ways of breaking them and I suggest each of them depending on the public age.
Adults and big children (plus 8y/o)
It is important to hang your pinata outside to prevent accidents. After that, use a scarf to blind the person who is in turn and give him/her a stick. Before letting this person go for it, give him/her 3 turns around and 3 chances to hit it. Move the pinata up and down while they try to hit it, just to make it extra challenging.
Children from 4-8
With children of this age it's better to leave their eyes free to see where to hit, you can either move or leave the pinata static. After 3 chances the next kid will take the turn.
Babies and kids till 4
Small kids love pinatas, you only need to make it kids-proof. Therefore, glue pieces of rope under it and give one to every kid, sit them all together around the pinata and when you say now, they need to pull it off. All the filling will come under it and the kids will take what falls on the floor.
The craziest pinata I have ever made.
I love customizing pinatas for the reason that I have the chance to put my creative ideas into it and work with structures and colors. In addition, when I get a new order I get excited and full of energy, this really brings me fulfillment. In the past years I have been making pinatas mostly for kids' parties, themes like monsters, sports, and minions were some of the topics I covered.
Last year I got a call from a customer who changed my perspective of pinatas and its uses. He asked for a very crazy pinata. He and his friends were coming to Amsterdam to celebrate a bachelor party, of course, they wanted a pinata, in the shape of a marihuana leaf.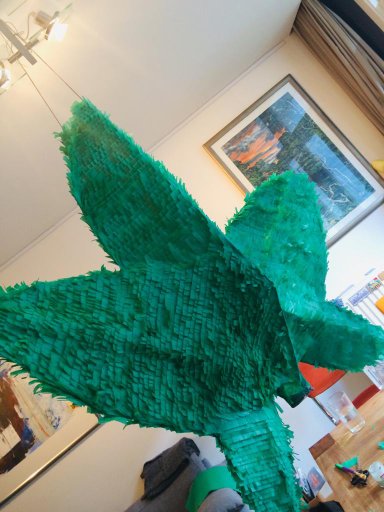 I must admit this was the craziest and most challenging pinata I had made so far. I had to create a 3D leaf of marihuana, and keep it straight and stable enough to survive a bachelor party. I loved it and since then I do believe pinatas can be used for any occasion.
Do you want to know How to make a pinata? read our post here.
Conclusion
Pinatas are loved by everyone, use them to bring colors and laughs to your celebration. There is a pinata for every occasion and you can make it yourself. Still, if you prefer to enjoy a very customized and special pinata you can always call me.